I have a new-to-me Friday meme today, the Friday Face-Off.  This meme invites bloggers to share cover images around a theme.  Today's theme is: "Being born in a stable does not make one a horse.  A cover which features a horse."
The first to come to mind was the American Girl: Felicity series, the book that ignited the horse-period for me that I suspect many small girls go through!  Looking at the covers, I found that even though Felicity's horse Penny features throughout the series, she only appears on one cover.
It's also funny that I had this cover pretty clearly in my head before I looked it up–except I don't think I pictured Felicity riding side-saddle!  Of course she would be, in 1774, and yet I honestly don't know if I ever noticed that as a kid.  It doesn't quite fit the overall urgency of the scene.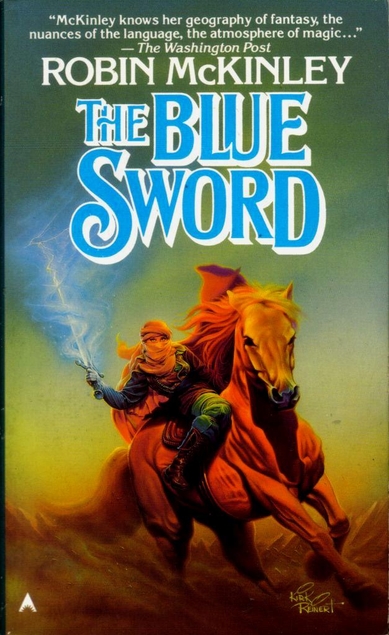 Robin McKinley's The Blue Sword also came to mind, as another horse-heavy story.  The heroine is clearly riding astride, but I do wonder a little about how far she's leaning back…that doesn't look altogether stable!  I think I mostly remembered this one because I recalled a comment on McKinley's blog once.  She said that when she dreams about the worlds of her novels, she can tell which one she's in by the saddle-types (or something to that effect).  That's so very cool. 🙂
Do you have a favorite book featuring a horse, or a favorite horse-themed cover?