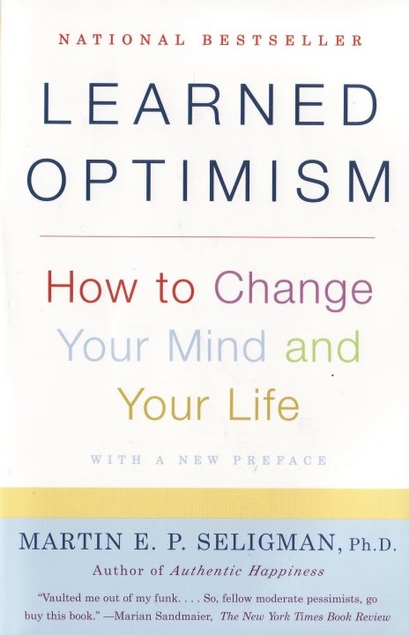 I've written before that one of my favorite nonfiction subjects to read is psychology–I'm fascinated by how the mind works (on the level of thoughts, not so much neurons).  I recently read Learned Optimism by Martin Seligman, Ph.D., and it was one of the most intriguing I've read to date.
Seligman details extensive studies he undertook and the conclusions drawn from them to define and explain pessimism, optimism and depression.  In brief, he found that learned helplessness (believing that whatever you do doesn't change the outcome) is a key component of depression, and that explanatory style (how you explain events, especially negative ones) influences whether learned helplessness becomes prolonged and intense.  Optimists and pessimists explain their lives and events very differently, but it's possible to learn optimism by challenging your explanations of events and consciously changing your thought processes.
This is an old book (about 30 years old) but as far as I can tell, Seligman is/was the foremost expert on the heavily related topics of learned helplessness and optimism/pessimism.  He's the one that the later books cite, and I'm pretty sure I've seen him referenced in other things I've read.  I'd like to read something more recent to see if there's been any updates in thought, especially regarding the causes of depression.