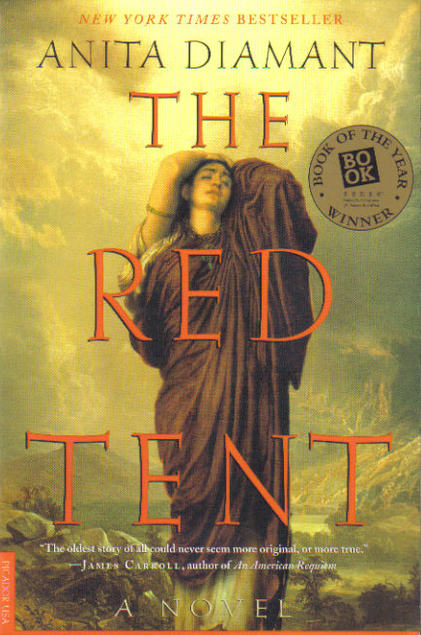 In high school, The Red Tent by Anita Diamant was on a list of optional summer reading–we had to read something from the list but not everything, and I opted to read something else.  I heard good things about the book from friends though, and it's been floating at the back of my mind as something I ought to read some time ever since.  I've been reading through Genesis in the Bible recently and came to the portion about Jacob and his family–and decided it was time to finally get The Red Tent off my mental to-read list.  And after fifteen or so years…I felt mixed about the book!
I love the concept of this book so much that I'm surprised it took me this long to read it.  (Sort of.  More on that later.)  It's the story of Dinah, daughter of Jacob and sister to his twelve sons (most famously, Joseph of the many-colored coat).  It retells the Biblical story of this very complicated family from the women's perspective, focusing on Dinah and the four wives (ish) of Jacob.  Since the Bible tends to be heavily male, I love that concept–and reading through the Genesis account made me want to explore the women's side.
But then I didn't really love what was done with it.  The book starts before Dinah's birth, telling the story of how Jacob met and married Rachel and Leah and (kind of) married their handmaids Bilhah and Zilpah, and how all those brothers came along.  And that sounds complicated and interesting, but somehow the book wound up being very, very focused on sex, childbirth and circumcision.  And I can see how all of those would be important, but it was…very heavily weighted on those three topics.
The story improved for me once Dinah was born and it could focus on her rather than a vague omniscient story of her four mothers.  There was a lot that was interesting about the culture of the time, particularly the women's culture.  I can't honestly say how accurate any of it was, but at least as a possible perspective it was engaging.  I liked Dinah's childhood probably best of any section of the book.