I'm hitting 2018 running with the Newbery Medal winners!  I didn't plan to pair these two when I read them, but they turned out to be particularly interesting when set next to each other.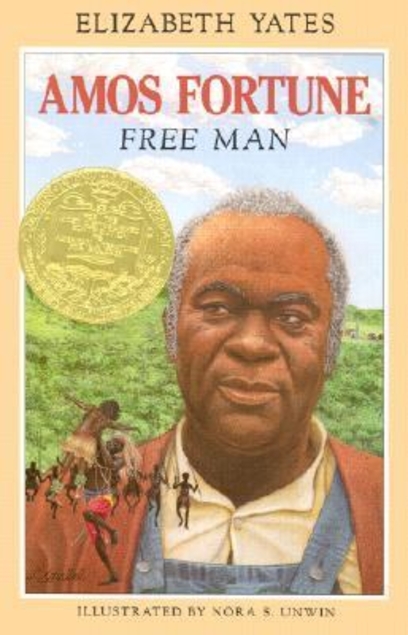 Amos Fortune: Free Man by Elizabeth Yates
Amos is an African prince, stolen with most of his tribe as a young man, packed onto a ship and taken to America to be a slave.  He lives through most of the 1700s, working and learning, passing through masters until achieving his freedom, marrying and prospering in a trade.
This was an odd book about slavery because, despite being the central theme, it felt strangely minor to the plot.  The capture at the beginning is dramatic, and we see how Amos' (not named that yet) tribesmen lose themselves through the horrible Middle Passage, but the details are somewhat slight.  In America, Amos is immediately bought by a Quaker who doesn't believe in slavery.  The understanding, from the beginning, is always that the master will free Amos, whenever Amos feels ready to be independent.  That's…not really how slavery usually works.  This actually doesn't work out because the master dies too soon, but Amos is sold to another man with much the same attitude, who does eventually arrange for Amos to be freed.
There are occasional incidents of racism, and yet these also seem sort of incidental, not pervasive.  Amos is extremely successful as a free man, becoming a master craftsman and a leading member of his mostly-white town.  It seems strange to complain because a book was positive, but…it felt so far from the norm when it comes to slavery narratives that it honestly threw me a bit.
Maybe it's the underlying message that if slaves were intelligent, adopted the white man's ways and worked hard, eventually they could succeed in the white man's world, playing by the white man's rules.  I don't think that sat well with me. This is a biographical sketch–Amos was a real slave who eventually prospered.  But the one exceptional story doesn't mean this was anything like typical, and I think it wasn't really presented as being exceptional.
I also thought the most interesting story here was the one not told–when Amos and most of his tribe are captured, his young, crippled sister is the only one left to assume leadership of the people who remain.  I want to know what happened to her!
The Slave Dancer by Paula Fox
Thirteen year old Jesse lives in New Orleans with his widowed mother, earning a few pennies playing his fife on the streets.  He's snatched up one night and taken aboard a slave trader as it sails for Africa.  Jesse's job will be to play the fife for the slaves to dance, "keeping them healthy" by keeping them moving.  He tries to fit into the rough life of the ship, but when the slaves are taken aboard, Jesse can't escape the relentless horror of the situation.
If Amos Fortune was too glossed, this one is dark.  It's from the point of view a white boy, technically one of the slavers (at least as part of their crew), but it gets into the horror of the situation far, far more.  The grimness is unflinching and unrelenting, and even with a few hopeful notes at the end, we also know Jesse never really gets over the horrors he witnessed.
So…I think I liked this one better?  I mean, it was not a fun read, it was very depressing and I'd think long and hard before I gave it to a child to read.  But it was real and it highlighted an important part of history without softening it.  So I definitely liked what it did better, even if I really needed something lighter to read after!
A funny story about this one–I was sure I had started it once, twenty years ago.  Possibly I did, but I also confused it with another book I started and quit.  The only thing I remembered about that book (which I thought was this one!) was a scene where a boy was lowered over the side of a ship to patch holes, but sharks got to him, and only half of him was there when they raised the rope again.  UGH!  As a kid, that made me stop reading.  I was looking out for that scene in this whole book…and it was never here.  So I don't know if I started The Slave Dancer before or not–and anyone got an idea what book I was reading?  😉
Both these books explore America's history of slavery, but while Amos Fortune is certainly the more hopeful read, The Slave Dancer condemned the practice much more effectively.  Very interesting to read in comparison side by side!