Time again for the Friday Face-Off meme, created by Books by Proxy, with weekly topics hosted by Lynn's Book Blog.  The idea is to put up different covers for one book, and select a favorite.
This week's theme is: A cover featuring an Amulet
The first book to come to mind was The Thief by Megan Whalen Turner.  I read this one as a kid and it's still a favorite, and a special token features as a major part of the story.  I'm not positive it's an amulet, but one cover shows it that way, so…we're going with it.
As an aside, I didn't realize until some years after I first read it that this was the first book in a series.  I really, really tried to like the second book–I read it twice–and it just didn't work for me.  The first book, however, I love.
This cover was on the copy I read at the library all those years ago, so I'm sentimentally attached to it…although when I really look at it, it doesn't fit at all!  If this is the lead character I can't explain the crown; if it's the character who might wear a crown, he's too old!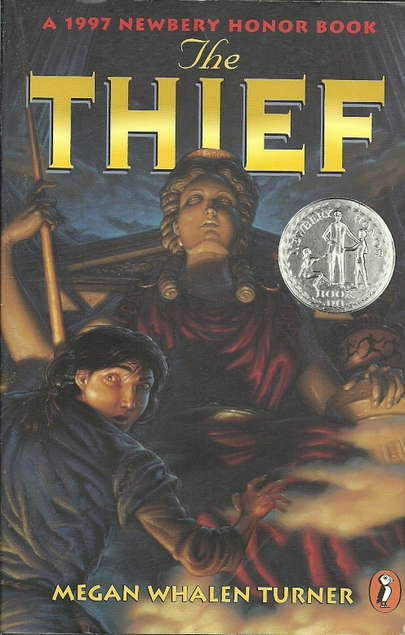 I like the comparative drama of this one, although it's a little cartoony for me–and something is weird about the angles.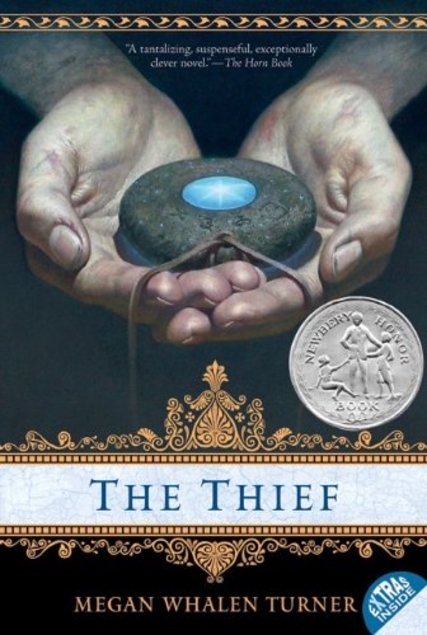 Here's the promised amulet!  I like this one a lot, especially the dirt on those hands.  It promises that the person those hands belong to is getting down into the dirt of life, that stealing this amulet is no easy job (and it's not!)
This foreign cover is my favorite–very similar to the previous one, I like the hint of the secret temple, the amulet looks a bit more how I'd picture it, and it's just more dramatic and dangerous!