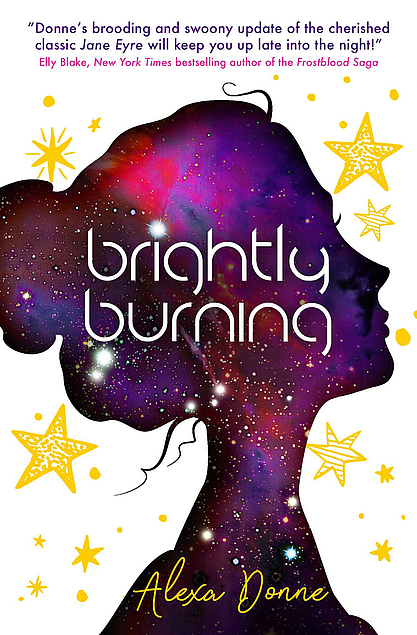 Sometimes I see a book with a premise that seems too good to be true, and then it turns out that it is.  Brightly Burning by Alexa Donne promised to be Jane Eyre – in space!  And it was, but unfortunately it wasn't as satisfying as I hoped it would be.  I ended up having two seemingly contradictory yet both true problems – the book was too much like Jane Eyre, and then it was too different!
The story follows Stella Ainsley, trying to get off her decaying home spaceship by applying for jobs as a governess.  She ends up being offered a position on the Rochester, where she meets the brooding captain, Fairfax, and sparks fly.  But does he have a secret? (yes, of course he does!)
So the worldbuilding concept was intriguing – set a few hundred years in the future, Earth has been made uninhabitable by…no, not global warming, the opposite!  A super volcano has caused a new ice age, and humanity's survivors have taken…not quite to the stars, but rather into orbit.  People escaped onto enormous space ships that have been orbiting the planet as a fleet ever since.  That's an intriguing concept.  There's still major class divisions between wealthy ships and poor ones, and Stella comes from one of the poorest.  The Rochester, on the other hand, is a tiny but very wealthy ship, so landing there seems like a dream.  Well, at first.