It's time again for the Friday Face-Off meme, created by Books by Proxy, with weekly topics hosted by Lynn's Book Blog.  The idea is to put up different covers for one book, and select a favorite.
This week's theme is 'It was the best of times, it was the worst of times' –A cover featuring a school

The first books I thought of that centered around a school were Gordon Korman's MacDonald Hall series, a hilarious collection of Juvenile books.  When I was a kid/pre-teen, Gordon Korman was my favorite funny author, the Terry Pratchett of that period in my life, and I still enjoy him very much.  MacDonald Hall are among his best books.  I thought I'd look at covers for the first one, This Can't Be Happening at MacDonald Hall!  He wrote it in seventh grade, which continues to amaze me.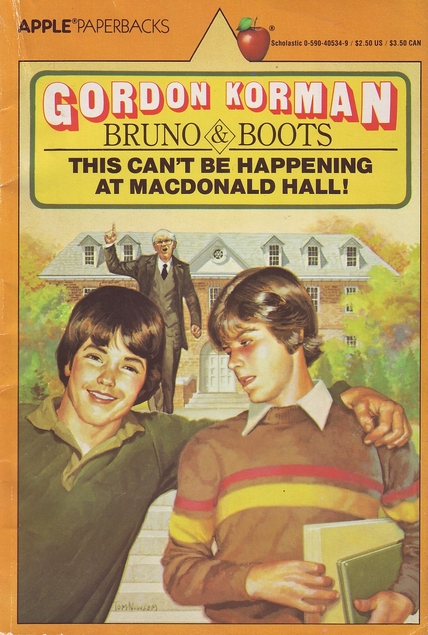 I like this cover pretty well–it puts the focus squarely on the two friends, Bruno and Boots, with Mr. Sturgeon (the Fish) the Headmaster threatening in the background.  It's just too bad that the hairstyles really date it… 😉
This one, on the other hand, makes the book look much more serious than it is…I think they were going for hilarious chaos, but wound up with the feel of serious chaos.  Especially since there appears to be a sniper on the rooftop.  I don't even know.
This is my cover, and I like the vibrancy and the action of it.  I feel like it implies an element of bullying though, which really isn't what the book is about.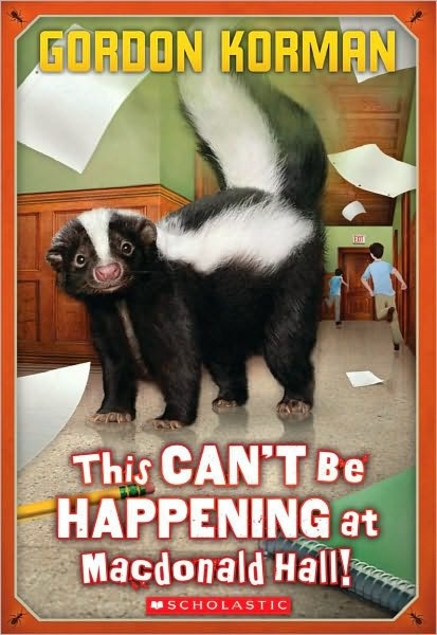 This one is my favorite!  The font and the art style both speak to the humor and age-target of the book, and even though the focus is on that adorable skunk, you still get the sense of a school, and two boys in the background.  Very fun!