It's time again for the Friday Face-Off meme, created by Books by Proxy, with weekly topics hosted by Lynn's Book Blog.  The idea is to put up different covers for one book, and select a favorite.
This week's theme is Summer Solstice – the longest day of the year – Pagan rituals/standing stones/blazing suns – a cover with your own interpretation
The first thing to come to mind on this topic was Stonehenge (probably not that surprising), and the first book to come to mind was Mary Stewart's The Crystal Cave.  Merlin is instrumental in building Stonehenge (using some magic, of course), and buries Ambrose the king at its center.
I was able to go on an Inner Circle tour of Stonehenge a few years ago, the only tour that takes you within the stones, with the friend who introduced me to The Crystal Cave.  As soon as they pointed out the altar stone, we were like, Ambrose's grave!  And there was a raven perched on Stonehenge for a long time, that we suspect was Merlin, still keeping an eye on things…
All right, on to the covers!
This was the only one I found that showed Stonehenge…too bad Merlin is looking kind of freaky there!
I like the dramatic red in this one, against the dark cave background.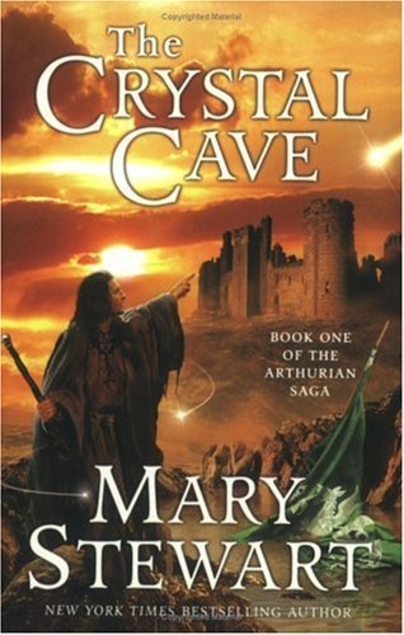 This was the cover on the copy I read, and it seems to be one of the major ones.  I like Merlin in the foreground, with the staff but without the cartoonish Merlin robe we sometimes see.  The castle and flag give it some of the context, and I like the drama of the sunset (rise?)  This was almost my favorite…
…but I really like this one.  Very different, I like the calm and the mystery of this cover.  The bird and the nature-element of the surrounding branches are a nice touch.
Which one do you like best? 🙂