It's time again for the Friday Face-Off meme, created by Books by Proxy, with weekly topics hosted by Lynn's Book Blog.  The idea is to put up different covers for one book, and select a favorite.
This week's theme is: Action – a cover that depicts action of some sort

I don't know how many books I read that put action at the center – I like talking and character growth best, but a little excitement can be welcome too!  And then I thought of Edgar Rice Burroughs, whose books almost never have any character growth to speak of, but lots and lots of action.  I looked up covers for my favorite, A Fighting Man of Mars (which happens to be a rare example where the hero really does go through some growth, and there's a very cool heroine besides).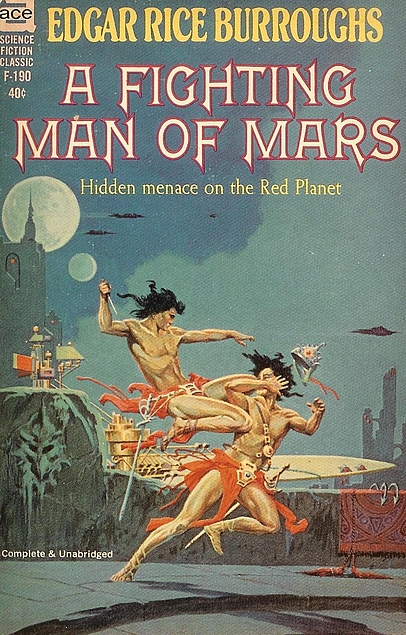 There's certainly no lack of action here, plus wild costumes and a hint of a strange landscape in the background.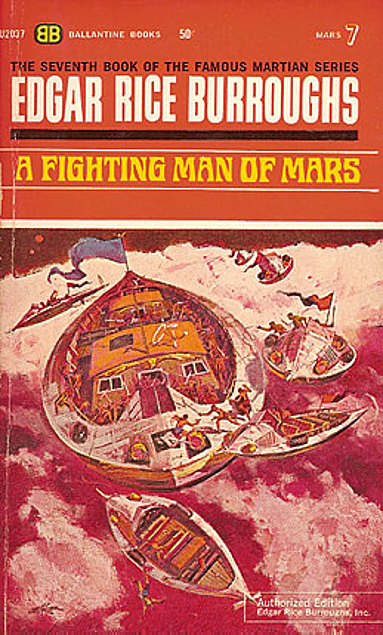 This is action of a sort, but the flying airships are less engaging than the warriors on most other covers.  Though if you look closely, there are people fighting here too, and someone dangling off the airship at the bottom!  Too bad it takes some close attention to see that.
I'm tempted to choose this one as my favorite, mostly because I like that it's the woman who's standing tall and raising the sword, a reverse of covers I think I've seen more often!  But I don't know what to make of the circuit-board look behind them, I don't feel like the costumes are quite right, and I don't know why her hair is silver…
I'm choosing this one as my favorite, with the strange monster and the prominent swords and the very accurate costumes (because, as you may have gathered, no one really wears clothes on Burroughs' Mars!)  I think it captures the feel of the book particularly well.
Which one do you like?  Can you think of other books with action-oriented covers?