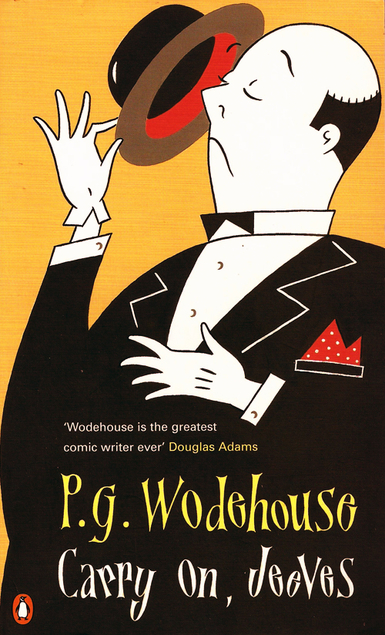 I was scrolling my library's digital audiobook collection, classics category, and came upon P. G. Wodehouse's Carry On, Jeeves.  My main experience with this comes from a music medley show I once saw that included "By Jeeves" by Andrew Lloyd Webber–so, not much!  But I decided to give the book ago and it was delightfully fun.
A collection of short stories set in vaguely early 1900s England and New York, they center around wealthy Bertie Wooster and his invaluable manservant Jeeves.  Bertie is friendly, affable and idle, not as smart as he thinks, and gets into occasional social entanglements.  Jeeves is unflappable and brilliant.  The stories are delightfully funny if slightly formulaic–Bertie or a friend gets into a scrape, usually involving a love interest or an overbearing relative, and Jeeves calmly, discreetly orchestrates a masterful solution to sort everyone out.
These were so much fun to read, and so utterly British, to the point of parody.  I don't know if Jeeves is tapping into the butler/manservant stereotype or if he actually set it, but he is the epitome of what you would expect in such a role.  He rarely betrays emotion, sets high standards regarding conduct and dress, and is discreetly helpful at all times.  He has impeccable taste and timing, and a trick of "projecting" himself into a room to appear exactly when needed.
Bertie is just this side of hapless (only just), apt to be excitable, sometimes overly-confident in his own abilities, and entirely the perfect counterbalance to Jeeves.  For an idle man-about-town, Bertie is remarkably likable, perhaps because many of the stories involve him trying to help a friend (not always wisely).
I've not read any Wodehouse before, but I want to read more now because his wit is just delightful.  Like Jeeves, it is very dry and sometimes understated, but he has a knack for the perfect words at the perfect moment to be extremely funny.
One of my favorite bits is when Bertie and Jeeves discuss "their" wardrobe.  "We" have four-dozen dress shirts and three dinner jackets.  Bertie objects that he has four, and Jeeves placidly explains that "we can only wear three of them."  Jeeves has unbending views on proper taste, and Bertie always falls into line in the end.
Along with wanting to read more stories, I'm also distinctly interested in the TV show Jeeves and Wooster starring Hugh Laurie and Stephen Fry.  Not bad for a random library scrolling!