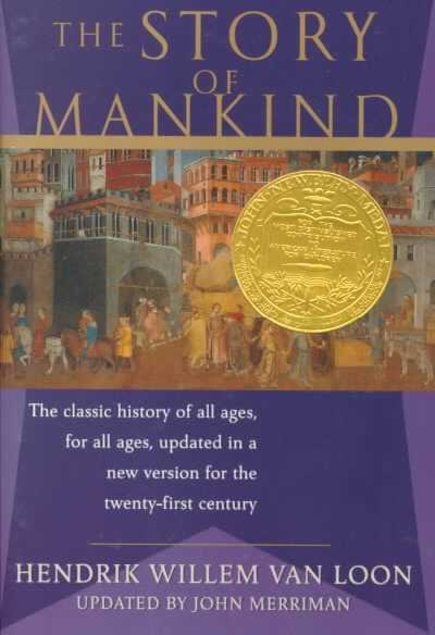 I recently confronted the juggernaut of Newbery Medals, the very first winner from 1922 and a seriously massive piece of nonfiction: The Story of Mankind by Hendrik Willem van Loon.  I actually got this out from the library months ago, was decidedly taken aback by how thick it was, and returned it unread for a later day.  This time I bought the audiobook on Audible (14 hours!)–and to my pleasant surprise, found it a quite engaging read.
The Story of Mankind promises to tell the history of the human race, starting from the formation of the Earth (literally), on up through the present day…of 1922, of course, just a few years beyond the Great War.  Along the way we go through the dinosaurs, primeval man, ancient Egypt, Mesopotamia, Greece and Rome, the Middle Ages, the Renaissance and the Reformation.  It's not so much the story of mankind as it is the story of European male-kind, but I will say that for a 1922 book, it made some efforts to be broad-minded.
As long as this was, I found it engaging and interesting throughout.  Targeting children, the history is not too dense, for good or ill.  It made it easy to follow and simple to read (er, listen to) but don't expect too much detail or advanced analysis.  I liked that it made an effort to pull the long centuries of history together into a coherent story, tracing the line from different eras and different countries to show how parts of history normally told separately connect to each other.
As noted, this was mainly the history of Europe (and continental Europe at that).  Sub-Saharan Africa and South America scarcely figure at all.  Loon made an effort to bring in Asia, with at least passing discussion at points as Asia and Europe intersected, and some more in-depth discussion on the Buddha and the origins of Taoism.  North America and the United States were only slightly represented as well, mostly in the "discovery" of the continent, with the focus staying firmly on Europe in recent centuries.
Apart from Cleopatra and a handful of queens (Elizabeth I and Marie Antoinette, for instance), women are pretty well absent here too, both as individuals and as a group.  I'd love to read a similar book focusing on history from the women's point of view, and how women's lives changed as history unfolded, but I haven't seen that one yet…
Recent history was the only point when things began to get confusing.  Loon focused mostly on one country or civilization at a time in earlier time periods, but in the 1800s he began bouncing between France, Russia, Turkey, the Scandinavian countries…and it began to be difficult to keep track of which one he was talking about at any moment.  Though, granted, I was listening, not reading, and driving in my car at the time as well.
Another thing I liked was the way the book talked about parts of Europe when they were frontiers, when Northern Europe was largely unsettled and Russia was a mysterious, almost mythical kingdom.  The world is so known now.  I liked thinking of places we know now as mysterious new lands long ago.
This book didn't give me a lot of new information about history, but I did like the way it gave a basic, broad overview of a great sweep of history.  It did seem like a good one for kids, an accessible grounding in the general shape of history.  There are many, many details that would need to be filled in for a full study of history, but knowing the broad sweep is a good start.
Buy it here: The Story of Mankind