Time for the Friday Face-Off meme, created by Books by Proxy, with weekly topics hosted by Lynn's Book Blog.  The idea is to put up different covers for one book, and select a favorite.
This week's theme is: 'I know I have the body of a weak and feeble woman, but I have the heart and stomach of a king' – A cover that depicts a novel set in the Tudor period
The first novel that came to mind seemed fitting, since it's about Elizabeth I, the source for this week's quote: Legacy by Susan Kay, about the life of Elizabeth I.  This author is better known (I think) for her Phantom novel, referred to always as Susan Kay's Phantom, and one my absolute favorite books.  I mean, we're talking top 5 here.  Legacy, though in some ways similar (a sweeping exploration of one person's life, through the points of view of different people surrounding them) is…well, not an absolute favorite.  Too much politicking!  But still a good read, with a few different covers.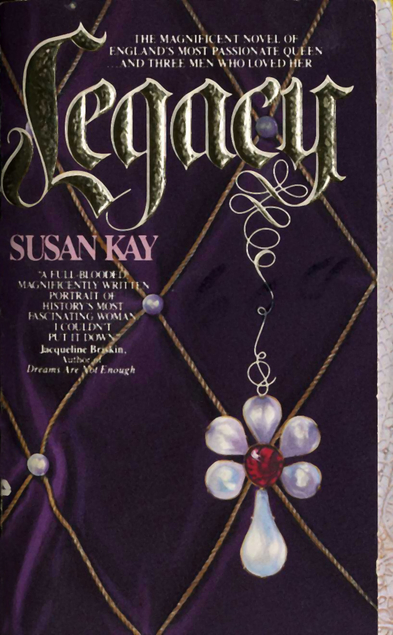 Do you suppose they had that quote about the stomach of a king in mind with this cover?  Because I think they're showing Elizabeth's stomach! 😀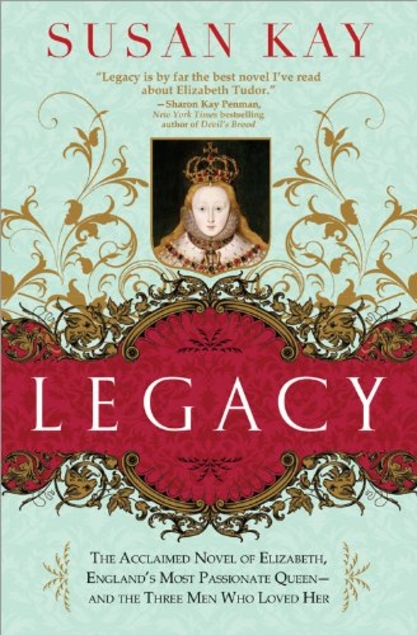 I think this was the cover on the copy I read, and I'm not wild about it–too fussy with all that decoration, and it doesn't help that Elizabeth's portrait is equally fussy.  She's being eaten by that collar…
This one is my favorite–I like Elizabeth strong in the foreground, definitely in Tudor clothes but still looking human.  And there are three men who play the most important roles in the story, so I like that they all made the cover, but appropriately as a background to Elizabeth herself.
Do you have a favorite Tudor-era book?