It's time again for the Friday Face-Off meme, created by Books by Proxy, with weekly topics hosted by Lynn's Book Blog.  The idea is to put up different covers for one book, and select a favorite.
This week's theme is: Vintage sci fi – "Live long and prosper."

With a prompt like that, clearly I have to share a Star Trek cover!  To keep it appropriately vintage, I went back to one of the very first Star Trek novels.  I like to think of the earliest ones as from the "Star Trek lives" era of fandom, before there was Next Generation and syndication, and Star Trek fandom seemed to involve a little more hopefulness and scrappiness–or so I suppose from the forwards I've read in these books.  It was before my time!
As to the actual book, I thought I'd go for the slightly ironically-named Spock Must Die! by James Blish, which holds pride of place as "Book #1" in the Star Trek novel universe.
This is the original cover, and…I have no idea what's going on with all those blobs.  It looks like the image was damaged, except that every picture of the cover (and my copy) have the exact same damage, so…yeah, I don't know how or why it got approved and printed that way!
I have no doubt this is, by contrast, the most recent cover.  Far more modern and far better quality, this pretty well matches the style of most Star Trek paperbacks.  It's a perfectly nice cover, although the lightning halo is a little odd!
This one is a bit fun and campy!  It also gives a better hint at the actual plot of the book (a Spock double, but which is the real one and which one is evil?  Chaos ensues!)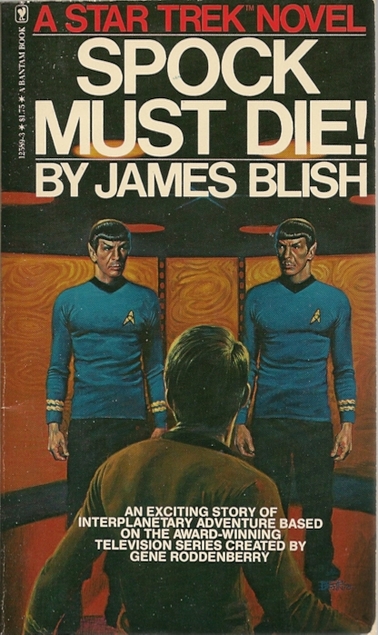 This one is my favorite!  It captures the plot best and is better quality than the original, while still maintaining the vintage feel of the era it was written in.