It's time again for the Friday Face-Off meme, created by Books by Proxy, with weekly topics hosted by Lynn's Book Blog.  The idea is to put up different covers for one book, and select a favorite.
This week's theme is: Graphic novel cover – "Love belongs to Desire, and Desire is always cruel"

I don't read many graphic novels, so I had to really think about this one…and then I remembered that I did read quite a few of the Fables graphic novel series.  Characters from fairy tales (and sometimes nursery rhymes) are living in a secret community in modern day New York, exiles from their magical home.  Despite what this might sound like, they're very adult-oriented graphic novels, with mature themes and sometimes more blood than I really needed!  Still a fun series though, and I probably read eight or ten volumes.  But I thought I'd look at covers for Volume One.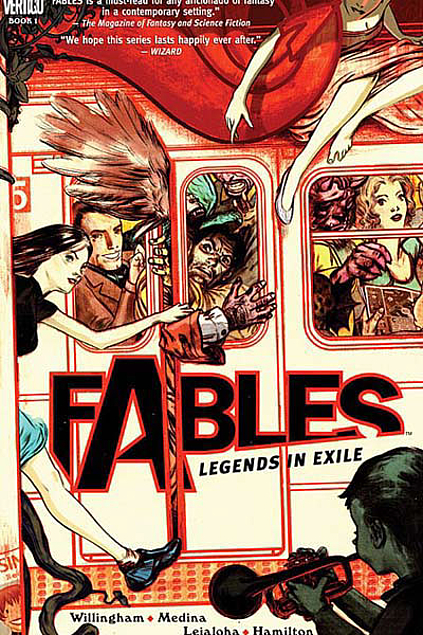 This seems to be the most common cover, and I think the one on the copy I read.  I actually don't like it!  It looks too busy, and even studying it, it's hard to tell exactly what's going on, or what sense I'm supposed to get of the book.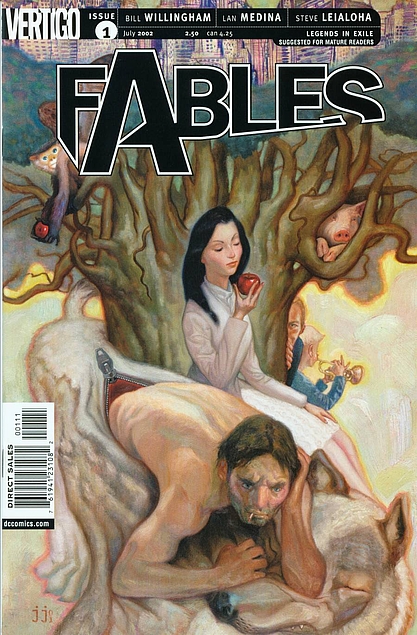 This one looks more suggestive at a glance than it does when I actually look closer, so that's a…choice.  🙂  It probably does give people a better sense at least of the maturity level of the story, though!
This is definitely my favorite cover option.  I can actually recognize a lot of characters here, and there's more of a story right there in the image.  I like how they juxtapose opposing concepts: Snow White with her power suit and her sword, and the old-style tower with the more modern street.  This looks a little bright and light for the series, but as I recall it grew darker as it went, so that's fair for Book One.
Do you read graphic novels often?  Do you have a favorite with a great cover?