I don't set out to read thematically-similar Newbery winners in a row, but sometimes it happens.  Today, two books about orphan boys looking for a place to belong.  Both good–but I think I'd better read one with a heroine next!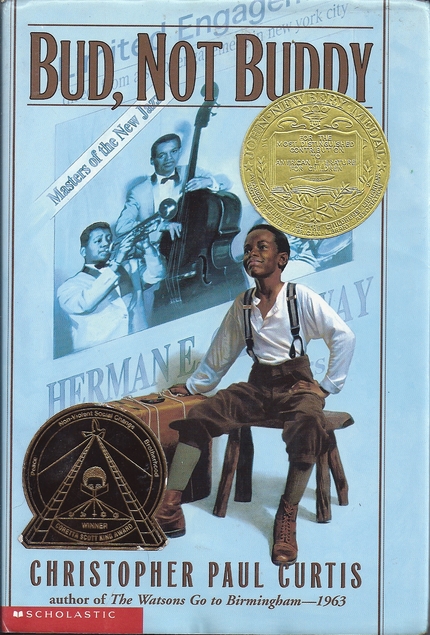 Bud, Not Buddy by Christopher Paul Curtis
Set during the Great Depression, Bud is a ten year old orphan, bouncing from orphanages and foster homes ever since his mother died when he was six.  When things go badly at another foster home, he seizes the opportunity to run away–and to travel in search of his father, based on slim evidence and personal conviction about who his father might be.
This is a book that's made by its main character.  Bud is a tough kid, but not as tough or grown-up as he thinks he is.  He has a fierce streak of independence, but he also has impeccable manners, a good heart, and a nice sense of humor that lightens what could have been a very grim book.  It also helps that he mostly meets good people.  Not everyone, and rough things happen, but mostly people are at a minimum well-meaning (if not always effective).
As the cover shows, Bud happens to be black (and so this one also meets my diversity challenge).  Race is not a major focus of the book, but it is present.  I like the way it's an element (as it would be in someone's life), but not the center of the plot or themes.  There are simply a few places where we see how race played into the culture of the time, for good or ill.  One of Bud's brief protectors, a black man, emphasizes that neither of them should be out at night in certain areas, but we also see a lot of jazz culture.
I loved Bud's endless list of "Bud Caldwell's Rules and Things for Having a Funner Life and Making a Better Liar Out of Yourself."  I think the highest number we see is around 300. Some of the rules hint at hard times Bud has had (a lot revolve around, "if you hear this, watch out because trouble is coming"), but they have a nice tongue-in-cheek quality to them too.
It was pretty easy to see early on that Bud's quest to find his father was not going to go as well or easily as he hoped–that was true but, as a slight spoiler, it worked out with a happy ending and a satisfying resolution anyway.
A Single Shard by Linda Sue Park
Set in 12th-century Korea, this one is about Tree-ear, a homeless boy fascinated by the art of pottery.  He manages to obtain work with the village's master potter, a highly skilled but deeply exacting man.  It takes patience, hard work, great loyalty and bravery for Tree-ear to advance towards his dream of creating beautiful pottery.
There are similar thematic elements to Bud, Not Buddy, but the feel of this book is very different.  Less humor, more reflection and Tree-ear is not as striking a character (for me at least) as Bud.  This one's strengths are more in setting and details of craftsmanship.  There's a lot about the pottery-making, the craft and complexity of it, and the role it plays in the culture of the time.  Speaking of which, with an entirely Korean cast, this one also meets my diversity challenge.
Min, the master craftsman, is an interesting character.  He's an exacting perfectionist in his work and in his life, and I enjoyed the way his personality was revealed through his pottery-making.  I also admired Tree-ear's determination to improve his life, in a time and place where that was not easy to do, and pottery-making was not an obvious route (considering especially that it was handed down father to son).
One plot-turn near the end seemed unnecessarily tragic to me, but I won't get into details to avoid spoilers!  This does have a (largely) happy ending for Tree-ear; like Bud, he does find somewhere to belong by the end.