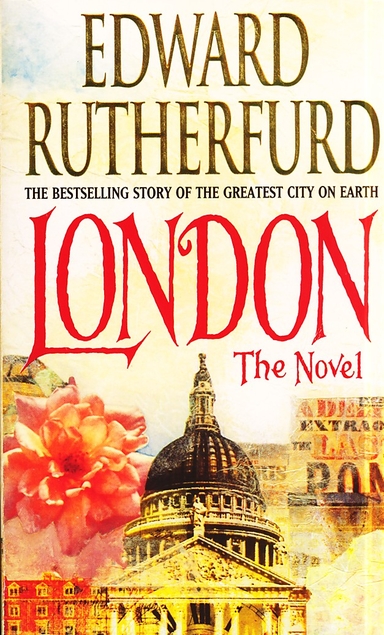 My book consumption, in terms of quantity, slowed down significantly in March, because I spent weeks reading just one book: London by Edward Rutherford.  1,200 pages of fairly small print, this is pretty much the definition of an epic tour de force.  It was a big undertaking (and I didn't realize it would be so long until it arrived on the library's hold shelf!) but it was definitely worth it.
London is historical fiction, with a little more emphasis on the "historical" than I usually like.  It begins, technically, four hundred million years ago with the formation of the Thames river valley.  It begins properly (on page 4) in 54 BC, in the Celtic village of Londinos on the Thames, where word has come of an approaching conqueror: Julius Caesar.  Starting with one family and gradually adding on more, Rutherford traces the history of London and several interlocking family trees down through the centuries.  The last chapter, an epilogue, is set in 1997, the year of the book's writing, although the last proper story is during the Blitz.  I loved this way of telling a story, of a city and of its people.
It may have helped that I love London–I've never lived there, but I've visited five times and I miss it when I'm away.  I also enjoy British history, so most of the major developments I had some initial familiarity with.  There was still plenty in here I didn't know and, more importantly, Rutherford brought it all to life with a beautiful balance of individual lives set against sweeping developments.