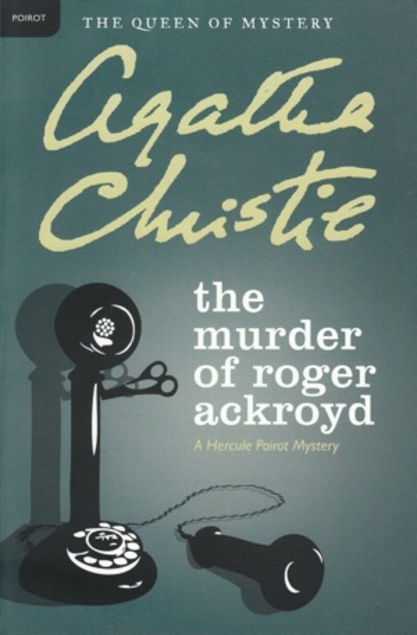 Agatha Christie is one of my go-to authors for audiobooks–I'm not sure how that happened, but there it is.  The only downside to audio is that I can't really flip back and see just what Dame Agatha said early on after a twist emerged, to decide if she lied to me or not.  Reading (listening to) The Murder of Roger Ackroyd was particularly interesting because I happened to know the twist of the ending–it turned out to be fascinating to see how she built it all up.  And she definitely withheld information, but she didn't actually lie!
This is the third Hercule Poirot mystery, the fussy Belgian detective best known (I think) for The Murder on the Orient Express.  In classic Christie fashion, wealthy Roger Ackroyd is found murdered in his study, rendering everyone else in the house a suspect.  Poirot sifts through the web of motives, alibis and deceptions with the help of Dr. Sheppard, our first person narrator for the story.  Everyone has something to hide, and the final twist truly is magnificent.
This was my favorite kind of mystery–an intricate puzzle with piece after piece gradually fitting together until the entire picture makes sense.  There are many layers of narrative here, as most characters have something going on unrelated (but we don't always know that) to the central murder.
Dr. Sheppard fills in the Dr. Watson role, to the extent that it's even remarked upon at one point in the story.  He had an engaging voice, and it was a bit fun to see someone who did not know Poirot well describe him.  I've also often found Hastings, Poirot's usual "Watson," to be rather irritating (so sure he's right and he never learns that he never is) so I found Sheppard more appealing in that way.  He also has a sister, Caroline, who is an inveterate gossip and good comic relief in the murder mystery.
I won't tell you the twist ending (though I will tell you that the Wikipedia plot summary gives it away), but I will say that Christie pulled the whole thing off masterfully.  It would have been a shocking twist if I hadn't known it, and since I did know it, I could see how cleverly she arranged everything.  This was only Christie's sixth novel, in comparatively early days of detective novels, so I can only assume it was even more stunning in its first publication.  She helpfully points out some of her own clever deceptions at the end of the novel, something that was rather charming–and perhaps necessary to sell the ending.
The British Crime Writers' Association voted this the best crime novel ever in 2013, and I have to agree that it's an excellent Christie novel.  If you're new to Christie or a fan, this is one that has everything: Poirot, intricate clues, a closed circle of suspects, and a brilliant twist.  And if you happen to want to try Christie on audiobook, Hugh Fraser is an excellent reader.