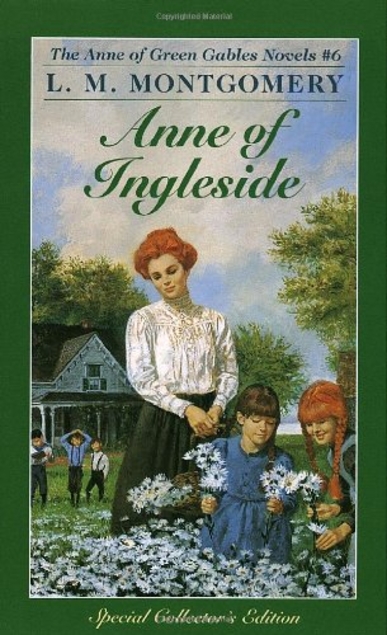 I've recently been rereading the eight-book Anne of Green Gables series by L. M. Montgomery, for the fourth (fifth? sixth?) time.  As always with Montgomery's work, I love reading her fiction as informed by her journals (and her journals as informed by her fiction…it's cyclical).  I recently finished book six, Anne of Ingleside, and had…a LOT of thoughts.  I reread Montgomery's journals quite recently, and there was a lot that came to bear in this book.
The last time I read Anne of Ingleside, it was my favorite of the series, though I couldn't have told you why.  On this read, I'm not sure it still is—but I know why it was.  This changed significantly in the several years since I last visited it.
Anne has grown up by now, and is the happy mistress of gracious Ingleside, with her successful doctor husband Gilbert, five children (number six on the way at the beginning), faithful maid (and surrogate co-parent) Susan Baker, and a respected place in society.  The stories mostly revolve around Anne's children, their little adventures and childhood heartbreaks.
I realized for the first time in this reread that two completely different worldviews are at odds in this book.  The setting and framework is optimistic and idyllic; the episodic stories are grim and disillusioned. Even though this is book six of eight, this is the very last novel Montgomery ever wrote, and her later journals show her deeply struggling with depression and dissatisfaction with aspects of her life.  Anne of Ingleside is a war between Montgomery's optimism and pessimism. Continue reading "Book Review: Anne of Ingleside" →