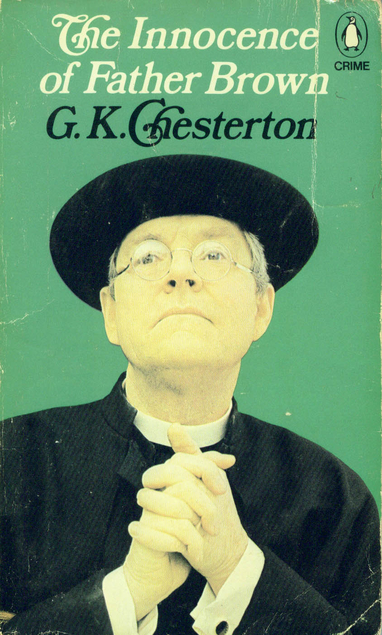 I've been watching the TV series Father Brown (a BBC series, available on Netflix) for many months now, and it's quite delightful.  I thought I'd try the original stories, written by G. K. Chesterton, and got The Innocence of Father Brown. the first collection of short stories, from the library.  It was an engaging book with some clever mysteries–though not quite the Father Brown I was looking for.
Father Brown is a Catholic priest in England, with a knack for solving mysteries.  Many of the short stories in this first book feature Hercule Flambeau, first as a criminal and then reformed into a detective.  The setting is mostly London, I think in the late 1800s.  Some of the stories relate to Father Brown's activities as a priest, though less than you might expect.  The connection is more through the insights Father Brown has gained as a priest than through plot connections.
The TV show, on the other hand, moves the setting to the Cotswolds in the 1950s, where Father Brown is pastor of St. Mary's Church.  Here his parish work is much more integral to the stories, as usually some aspect of his priest work brings him into contact with the crime–nearly always murder.  The TV show adds in additional supporting characters: Mrs. McCarthy, parish secretary and quite proper; Lady Felicia, local aristocracy and not so proper; Sid, chauffeur to Lady Felicia; and, in later seasons, Bunty, Lady Felicia's very modern niece.  There's also an ongoing parade of local police chiefs, none of whom appreciate this priest interfering in the world of crime.
The short stories were interesting and engaging, but the TV show is charming and delightful–so it probably didn't set me up that well for the short stories!  The tone just feels very different.  The Cotswold setting is a big part of the charm (though one does have to wonder about the number of murders happening in this idyllic rural village!) Continue reading "Book and TV Review: Father Brown" →