I accidentally paired two Newberys lately, and found myself reading two books about small medieval villages in a row.  Which actually worked out well, as a lot of historical elements paralleled and supported each other.
First I read Good Masters, Sweet Ladies: Voices from a Medieval Village by Laura Amy Schlitz.  An unusual format, this is a collection of monologues (and two dialogues).  Each speaker is a different character from the same village, each speaking about his/her life.
Considering the presentation, I was impressed by how vividly the characters and world came to life.  Originally written for a school pageant (giving each child a good part), all the characters are children.  They're a wide range of classes and life situations, from the Lord's son to the beggar boy.  Altogether they depict the society, its rules and hierarchies throughout the village.
I liked best the monologues that built on each other, as when the Lord's daughter spoke about having a clod of mud thrown at her and her confusion…followed by the monologue of the girl who threw it, and her hard home life, envy of the Lord's daughter, and ultimate remorse.
For a kid's book this depicts hard aspects of life in the Middle Ages.  Some characters are desperately poor, with hard lives that are dirty, hungry and largely hopeless.  I'm impressed by the realism without being a really depressing book.  It may be because the characters accept their lives as normal—so while it's bleak to modern eyes, the tone isn't overwhelmingly dark.  Overall I found it a really engaging look at a time and a society.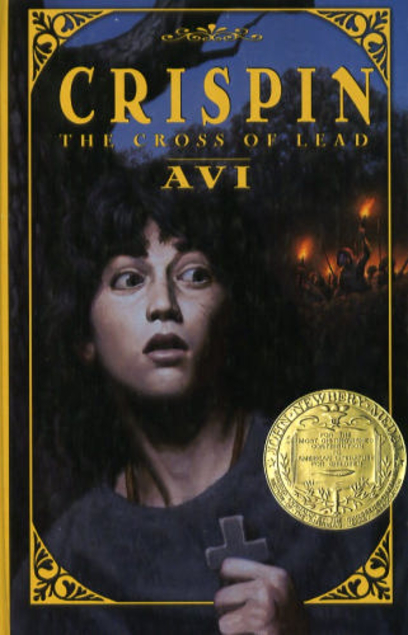 Then I went on to Crispin: The Cross of Lead by AVI.  I actually started this one years and years ago without finishing it—I don't remember why anymore, but suspect I found it depressing!  Crispin grew up an outcast in a small medieval village, his father dead, his mother desperately poor and his only identity as "Asta's son"—he doesn't even have a name.  As the book opens, Asta just died and Crispin has been declared a "wolf's head" by the local steward, an outlaw with a bounty on his head, dead or alive.  Crispin flees, falls into company with a jester who dreams of better worlds, and eventually learns more about his own history and himself.
So the ending is fairly hopeful…but a lot of the book is grim!  Crispin's situation seems harder than anyone's in Good Masters, and he struggles against it much more.  In a very short book, it seemed to take a long time for Crispin to move forward in escaping and remaking his life.  In an odd way, I think the desire for something better actually points up and makes more depressing the harsh situations depicted.  Maybe this would be more hopeful a story if the efforts towards social reform were more extensive…but I think they're there just enough to point out how dark the world is, without quite bringing more light in.
Crispin is a more active and complex plot than Good Masters, and more exciting in that way.  But it is darker too, and I preferred Good Masters.  It's funny, because I generally prefer stories that are moving towards a better world…but in this case I liked better the story that simply depicted the past as it was—and would have been accepted by most people in it.