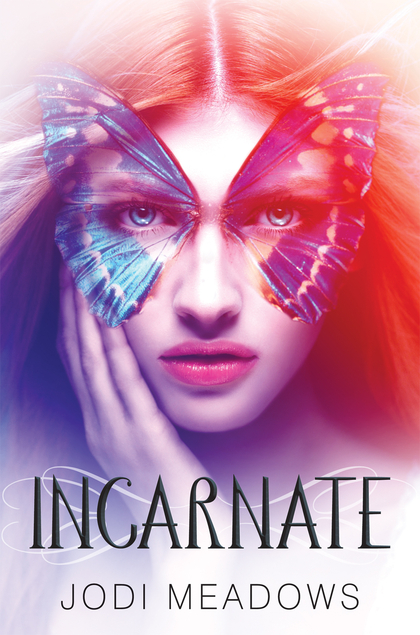 You may have noticed the blog was quieter than usual last week – my marketing job had me in Las Vegas for a conference, which rather overwhelmed everything else for a few days!  I did very little reading while I was traveling–and then spent the weekend after doing little else, recharging my introvert batteries after being surrounded by hundreds of people.  I spent a good bulk of the past few days tearing through Incarnate by Jodi Meadows.  It was a great way to recharge.
Incarnate is a fascinating fantasy novel that hit a lot of my favorite things.  Set in a world with sylphs and dragons (you don't want to cross either), the most interesting part is still the humans: there are a million of them, and for five thousand years they have all reincarnated again and again, and remember all their lifetimes.  But then Ana is born–a "newsoul," replacing another soul, and no one knows why.  Eighteen year old Ana is seeking answers for why she exists, and what it means to be human when you're the only one without 5,000 years of identity behind you, or the promise of countless lives ahead.
I find reincarnation stories fascinating, but I've never seen one like this.  Normally the person remembering their succession of lives is the oddity.  I loved seeing a society where that's the norm, and the culture, the societal structure, even the government, are based around that idea.  There were so many fascinating details – like the journals everyone keeps to help them remember their many lives, or the notion of maintaining a graveyard of all your past bodies (a little creepy, I know, but well-handled in the book), or the possibility of being mothered by someone younger than you, after your mother died in childbirth and came back again.